By Dennis Hartley
(Originally posted on Digby's Hullabaloo on January 27, 2007)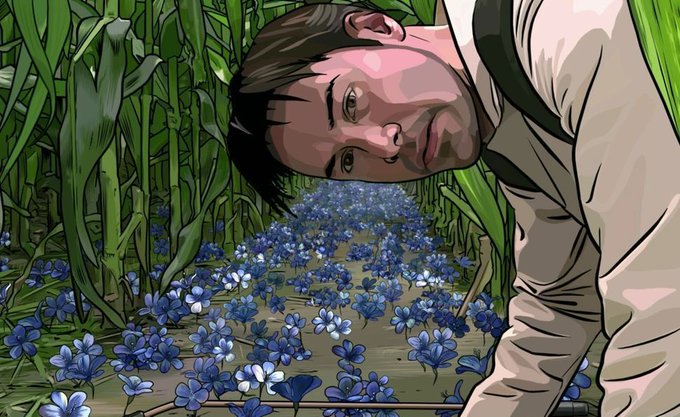 Richard Linklater entered the sci-fi arena in 2006 with his adaptation of the late Phillip K. Dick's semi-autobiographical novel A Scanner Darkly (now on DVD). Set in a not-so-distant future L.A., the story injects themes of existential dilemma, drug-fueled paranoia and Orwellian government surveillance  into what is otherwise a fairly standard "undercover-cop-who's-gone-too-deep" yarn.
Keanu Reeves stars as a dazed and confused narc that has become helplessly addicted to the mind-altering drug that he has been assigned to help eradicate ("substance D"). Robert Downey Jr., Woody Harrelson, Winona Ryder and Linklater alumni Rory Cochrane are his fellow D-heads who may not exactly be whom they appear to be on the surface.
Adding to the mood of hallucinatory psychosis is Linklater's use of rotoscoping (as per his underrated Waking Life). The rotoscoping technique does present challenges for the actors; Downey, with his Chaplinesque knack for physical expression, pulls it off best, while the more inert performers like Reeves and Ryder are literally akin to watching oil paintings.
Linklater's script keeps fairly close to its source material-particularly in relation to the more cerebral elements (Linklater's propensity for lots of talk and little action may be a turn-off for those expecting another Minority Report).
Depending on what you bring with you, the film is a) a cautionary tale about addiction, b) a warning about encroaching technocracy, c) an indictment on the government's "war" on drugs, d) a really cool flick to watch while stoned, e) the longest 99 minutes of your life or f) all of the above.
Speaking of the "war" on drugs-here's a sleeper you may have missed. Grass is a unique, well-produced documentary dealing (er, pun intended) with the history of anti-marijuana legislation  in the United States. Far from a dry history lesson, the film builds its own "counter-myth" of sorts, by exposing the hypocrisy of the government's anti-marijuana propaganda machine over the years; from the  histrionics of the 1930's howler Reefer Madness to the Reagan administration's "Just Say No" campaign in the 1980's.
There is also an eye-opening  tally of all the tax money the various law-enforcement agencies have spent (thrown away?) attempting to eradicate marijuana usage…from the days of Elliot Ness to the present. The filmmakers ladle some well-chosen period music over a wealth of archive footage (maximized for full ironic effect). Woody Harrelson, who has famously lived through a series of herb-related legal problems, off-screen, narrates with winking bemusement. Whether you are for or against legalization, you should find this one quite informative and highly (sorry!) entertaining.