By Dennis Hartley
(Originally posted on Digby's Hullabaloo on February 20, 2021)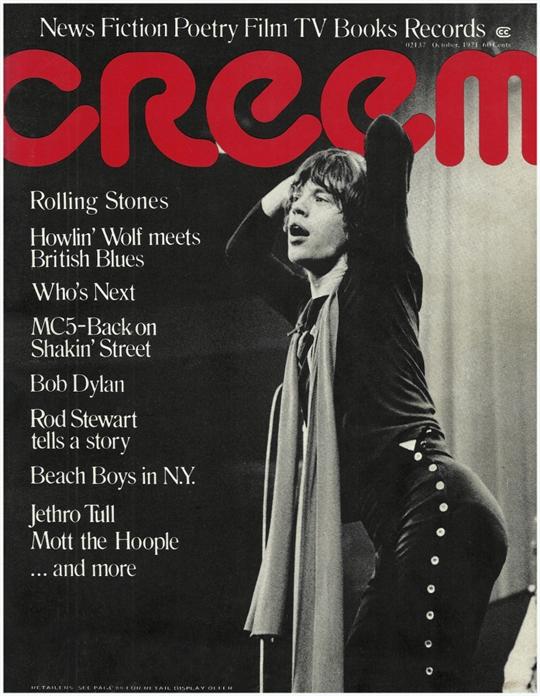 Have you heard the good word? Brothers and sisters, can I testify?
I joined the church in the early 70s, when I was a teenager. The Church of Christgau. I worshiped at the altar of Rock 'n' Roll, and studied the Holy C's: Creem, Circus, and Crawdaddy. Yea, I found enlightenment poring through those sacred tablets and learning the words of the prophets: Robert Christgau, Lester Bangs, Dave Marsh, Ed Ward, Richard Meltzer, Lisa Robinson, Jon Landau, Cameron Crowe, Paul Krassner, et.al.
Oh, I was aware of music prior to the 70s; growing up as I did during the golden age of top 40, I have those "super sounds of the 60s and 70s" burned into my neurons, (consciously or not) to this day. But it wasn't until the late 60s (after buying my first FM radio) that I came to realize my developing taste in music wasn't necessarily reflected by the pop charts. I couldn't put a name to it, as "classic rock" was yet to be labeled as such.
By the late 60s, the genre broadly labeled "rock 'n' roll" was progressing by leaps and bounds; "splintering", as it were. Sub-genres were propagating; folk-rock, blues-rock, jazz-rock, progressive rock, country rock, hard rock, funk-rock, Latin-rock, Southern rock, etc.
In the wake of The Beatles' influential Sgt. Pepper's Lonely Hearts Club Band (which notably yielded no singles) recording artists began to rethink the definition of an "album". Maybe an LP didn't have to be a 12" collection of radio-friendly "45s" with a hole in the middle; perhaps you could view the album as a "whole", with a unifying theme at its center.
This was moving too fast for AM, which required a steady supply of easy-to-digest 3 minute songs to buffer myriad stop sets. Yet, there was something interesting happening over on the FM dial. The "underground" format, which sprouted somewhat organically in 1967 on stations like WOR-FM and WNEW-FM in New York City, had caught on nationally by the end of the decade, providing a platform for deep album cuts.
Consequently the early 70s was an exciting and innovative era for music, which I don't think we've seen the likes of since. For a generation, this music mattered…it wasn't just background noise or something to dance to. This beautiful exploding headband of sounds demanded its scribes. And thus it was that God (or somebody who plays him on TV) created the "music journalist" to help spread the gospel, blues and jazz that became Rock.
And he saw that it was Goode. And I have been a member of the congregation ever since.
It should be obvious to anyone who has followed my weekly scribbles at Hullabaloo (great googly moogly…have I been doing this for 15 years?!) that I primarily write about film. I love writing about film. But my first love (we never forget our first love) was music. In fact, my first published piece was a review of King Crimson's A Lark's Tongue in Aspic, in 1973. Granted, it was for my high school newspaper and upwards of dozens must have read it, but for that brief shining moment…I was Lester Bangs (in my mind).
Which brings us back to 1971. Hard to believe that was 50 years ago. An outstanding year for music, with an embarrassment of riches. Sifting a "top 10" from that heap of classic vinyl was crazy-making (if I hadn't allowed myself the "next 10" at the bottom of the post, my head would have exploded). I'm sure I've "overlooked" or "misplaced" your favorite…let's just say it's duly noted in advance. So here you go, in alphabetical order…
Aqualung – Jethro Tull
After toying with various combinations of blues, English folk, jazz, and straight-ahead hard rock, Jethro Tull finally found the winning formula in their 4th outing that defines their "sound" to this day.
While songwriter/lead vocalist/flutist/acoustic guitarist Ian Anderson historically scoffs at the suggestion, Aqualung is generally regarded as Tull's first concept album (although arguably the follow-up, 1972's Thick as a Brick fits the definition of 'concept album' more snugly). There is definitely some sharp running commentary about organized religion and associative societal issues in this particular song cycle. Regardless, the song craft is superb and the band is in top form; especially guitarist Martin Barre, who establishes himself here as one of rock's greatest axe men.
Choice cuts: "Aqualung", "Cross-Eyed Mary", "Mother Goose", "Up to Me", "Hymn 43", "Locomotive Breath"
Blue – Joni Mitchell
Joni Mitchell's 4th album is so honest and intimate that every time I listen to it I feel a bit awkward…like I'm intruding on someone's personal space. This extraordinary set features minimalist arrangements, giving ample room for her angelic pipes to breathe and soar. Mitchell accompanies herself on guitar, dulcimer and piano, with a little help from friends James Taylor, Steve Stills and Russ Kunkel. The Supremes covered "All I Want" on their 1972 album The Supremes Produced and Arranged by Jimmy Webb, and Nazareth covered "This Flight Tonight" on their 1973 album Loud 'n' Proud.
Choice cuts: "All I Want", "Blue", "This Flight Tonight", "A Case of You", "Carey", "River".
Electric Warrior – T. Rex
Flying saucer, take me away. The year before Bowie brought Ziggy Stardust to Earth, T. Rex landed the glam rock mothership with their breakthrough album. Originally formed as the duo Tyrannosaurus Rex in 1967, songwriter-vocalist-guitarist Marc Bolan and percussionist/obvious Tolkien fan Steve Peregrin Took (aka Steve Porter) put out several albums of psychedelia-tinged folk before going their separate ways in 1970. Mickey Finn replaced Took, and Bolan recruited additional personnel and shortened the name to T. Rex in 1970.
Bolan's coupling of power chord boogie with pan-sexual stage attire turned heads, making him the (literal) poster boy for what came to be labeled "glam-rock" (although, to my ears Bolan's songs are rooted in traditional Chuck Berry riffs and straight-ahead blues-rock…albeit with enigmatic and absurdist lyrics). Ex-Turtles Mark Volman and Howard Kaylan (aka Flo & Eddie) contribute backing vocals on most tracks.
Choice cuts: "Mambo Sun", "Jeepster", "Cosmic Dancer", "Bang a Gong", "Planet Queen", "Life's a Gas".
L.A. Woman – The Doors
The first time I heard "Riders on the Storm" was in 1971. I was 14. It haunted me then and haunts me now. It was my introduction to aural film noir. Distant thunder, the cascading shimmer of a Fender Rhodes, a desolate tremolo guitar and dangerous rhythms."There's a killer on the road. His brain is squirming like a toad." Fuck oh dear, this definitely wasn't the Archies.
Jim Morrison's vocals got under my skin. Years later, a friend explained why. If you listen carefully, there are three vocal tracks. Morrison is singing, chanting and whispering the lyrics. We smoked a bowl, cranked it up and concluded that it was a pretty neat trick. Sadly the album the song was taken from, L.A. Woman was the last Doors LP released while Morrison was alive (he died shortly after). Jim sounds just like the bluesy, boozy, Baudelaire he was at the end…but clearly the music remained his "special friend".
Choice cuts: "Love Her Madly", "Been Down So Long", "L.A. Woman", "Hyacinth House", "The WASP (Texas Radio and the Big Beat)", "Riders on the Storm".
Led Zeppelin IV – Led Zeppelin
By the time they began working on a 4th album, Led Zeppelin had already set a high bar for themselves. 1969 saw the release of their eponymous debut and its hard-rocking follow-up Led Zeppelin II, and in 1970 they one-upped themselves with the eclectic Led Zeppelin III, which displayed influences ranging from Delta blues, English folk, heavy metal, country, and bluegrass to Middle Eastern music. 
As history has proven, Led Zeppelin IV (also known as "The Runes Album") not only easily cleared that bar, but features a bevy of cuts that have become "Classic Rock" FM staples. One cut in particular…"Stairway to Heaven"…has become the most instantly recognizable power ballad of all time (as well as the bane of ear-fatigued guitar store employees).
Choice cuts: "Black Dog", "Battle of Evermore", "Stairway to Heaven", "Misty Mountain Hop",  "Going to California", "When the Levee Breaks".
Master of Reality – Black Sabbath
For me, Master of Reality is the most "Sabbath-y" of Sabbath albums. For their third outing, the band had the luxury of more studio time than on the previous two albums. Consequently they did more experimenting; e.g. guitarist Tony Iommi and bassist Geezer Butler tuned their guitars down to D# and C# standard on several tracks, creating an even more ominous "sound" than on Black Sabbath and Paranoid (Iommi had already been down-tuning for live sets for some time, to compensate for chronic pain he suffered from two severed fingertips on his fretting hand). While there are plenty of heavy, riff-driven rockers in this set, there are also interludes of gentility, like Iommi's lovely acoustic instrumental "Orchid" and the Moody Blues-ish "Solitude".
Choice cuts: "Sweet Leaf", "After Forever", "Children of the Grave", "Into the Void", "Orchid", "Solitude".
Tapestry – Carole King
I think of this as Carole King's "first" solo album; but it's really her second. Let's be honest…who remembers her 1970 debut Writer? While Writer has some great tracks, Tapestry is so perfect that if King had decided to retire then and there, her place as one of America's greatest songwriters would be assured.
Besides, she had already been composing hits for a decade prior to stepping into the spotlight as a performer herself (for a period in the 60s, she and then-husband Gerry Goffin co-wrote hits like "Will You Love Me Tomorrow", "Some Kind of Wonderful", "The Loco-motion", "Go Away, Little Girl", "Up on the Roof", "One Fine Day", "I'm Into Something Good", "Don't Bring Me Down", "Goin' Back", and "Pleasant Valley Sunday"). Out of the gate with those songwriting chops, plus a beautiful voice and prowess on keys? Fuhgetabouit!
Choice cuts: "I Feel the Earth Move", "So Far Away", "It's Too Late", "Home Again", "You've Got a Friend", "You Make Me Feel (Like a Natural Woman)".
There's a Riot Goin' On – Sly & the Family Stone
Sly & the Family Stone's 5th album marked a radical departure from the band's established formula of good-time, up-tempo funk & roll; and it had nearly everything to do with band leader Sly Stone's increasing drug use. It is not only detectable in Sly's junked-out vocalizing on many tracks, but in the darker, introspective lyrics and a palpable tension in the music. Almost perversely, Sly's slipping creative focus created a new kind of laid back funk groove that was influential in its own right (especially thanks to liberal use of drum machines). This album has aged like a fine wine.
Choice cuts: "Just Like a Baby", "Poet", "Family Affair", "(You Caught Me) Smilin'", "Runnin' Away", "Thank You For Talkin' to Me Africa".
Who's Next – The Who
How do you follow up Tommy? Surely, Pete Townshend was feeling performance pressure, after the Who's ambitious 1969 2-LP rock opera was so enthusiastically received by critics and live audiences. Sating fans with their now classic LP Live at Leeds in 1970 as a placeholder between studio projects paid off handsomely, as demonstrated by this memorable set…which for my money remains their most enduring album.
Comprised of several songs originally intended for a scrapped multimedia project called Lifehouse and top flight new material, the superbly produced Who's Next suggested a progression to a more sophisticated sonic landscape for the band, albeit with no shortage of the Who's patented power and majesty. For example, the band incorporated synthesizers into the mix for the first time, as well as utilizing guest musicians on several cuts (most notably violinist Dave Arbus and pianist Nicky Hopkins). One of the greatest albums of any year.
Choice cuts: "Baby O'Reilly", "Bargain", "The Song is Over", "Goin' Mobile", "Behind Blue Eyes", "Won't Get Fooled Again".
The Yes Album – Yes
Long before MTV (or YouTube), my teenage self would while away many hours listening to Yes with a good set of cans, getting lost in Roger Dean's otherworldly cover art, envisioning my own music videos (special effects courtesy of the joint that I rolled on the inside of the convenient gate-fold sleeve). Good times (OP sighs, takes moment of silence to reflect on a life tragically misspent).
Complex compositions informed by deeply layered textures, impeccable musicianship, heavenly harmonies, topped off by Jon Anderson's ethereal vocals; an embodiment of all that is good about progressive rock (I know the genre has its detractors, to whom  I say…"You weren't there, man!"). This was the third studio album for Yes, and it was then and remains now, my favorite of theirs. Perfection.
Choice cuts: "Yours is No Disgrace", "Starship Trooper", "I've Seen All Good People", "Perpetual Change". 
Bonus Tracks!
Here are 10 more gems from 1971 worth a spin:
A Better Land– Brian Auger & the Oblivion Express
Broken Barricades – Procol Harum
Hunky Dory – David Bowie
In Hearing Of – Atomic Rooster
Killer– Alice Cooper
Live at Fillmore East – The Allman Brothers
Madman Across the Water – Elton John
Pieces of a Man – Gil Scott-Heron
Sticky Fingers – The Rolling Stones
What's Going On – Marvin Gaye