By Dennis Hartley
(Originally posted on Digby's Hullabaloo on June 16, 2007)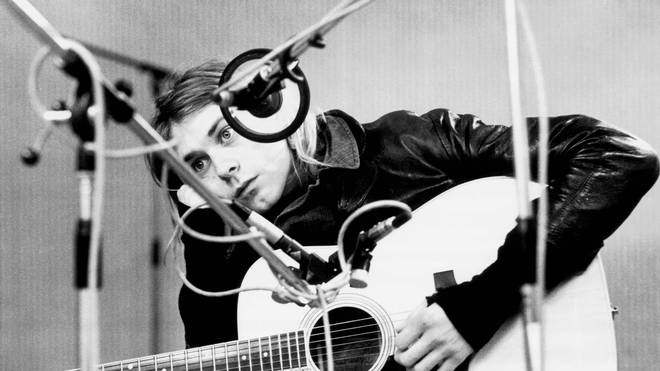 It's virtually impossible to live here in Seattle and not be constantly reminded of Kurt Cobain's profound impact on the music world. Every April, around the anniversary of his suicide, wreaths of flowers and hand taped notes begin to cover a lone bench in a tiny park sandwiched between the lakefront mansions I pass on my way to work every morning. Inevitably, I will see small gatherings of young people with multi-colored hair and torn jeans holding silent vigil around this makeshift shrine, located a block or two from the home where he took his life.
Needless to say, A.J. Schnack's new rock doc Kurt Cobain: About a Son (scheduled to open in select cities in August) has certainly been a highly anticipated film here in the Emerald City (ironically, it premiered at the Toronto Film Festival last fall; I was surprised that the director, who took the stage after the film for Q & A at the SIFF screening I attended , wasn't called out for this slight by any of the numerous flannel-wearing diehards in the audience).
Schnack's  film is a unique, impressionistic portrait of Cobain's short life. There are none of the usual talking head interviews or performance clips here; there's nary a photo image of Cobain or Nirvana displayed until a good hour into the film. Schnack was given access to a series of frank and intimate audio interviews that Cobain recorded at his Seattle home circa 1992-1993. Schnack marries up Cobain's childhood and teenage recollections with beautifully shot footage of Cobain's hometown of Aberdeen and its environs.
The combination of Cobain's narration with the visuals is eerie; you feel that you are inside Cobain's temporal memories-kicking aimlessly around the cultural vacuum of a blue collar logging town, walking the halls of his high school, sleeping under a railroad bridge, sitting on a mattress on a crash pad floor and practicing guitar for hours on end.
The film is an antithesis to Nick Broomfield's comparatively sensationalist rock doc Kurt and Courtney. Whereas Broomfield set out with a backhoe to dig up as much dirt as quickly as possible in attempting to uncover Cobain's story, Schnack opts for a more carefully controlled excavation, gently brushing the dirt aside to expose the real artifact.