By Dennis Hartley
(Originally posted on Digby's Hullabaloo on  February 13, 2016)
To-morrow is Saint Valentine's day,
All in the morning betime,
And I a maid at your window,
To be your Valentine.
 –William Shakespeare, Hamlet, Act IV, Scene 5
You're breakin' my heart
You're tearing it apart…so fuck you
-Nilsson, Son of Schmilsson, "You're Breaking My Heart"
 Alright, I've covered the "warm and fuzzy" angle for Valentine's Day. But there are two sides to every coin. This "holiday" depresses some people. It's just a corporate invention; a marketing ploy to push overpriced cards and chocolates, right? So I say, embrace your melancholia! I mean, I may be "alone", but I'm not "lonely", right? Right? Anyone? Bueller? Hello? (tap, tap) Is this internet working?
Anyway…here you go, alphabetically: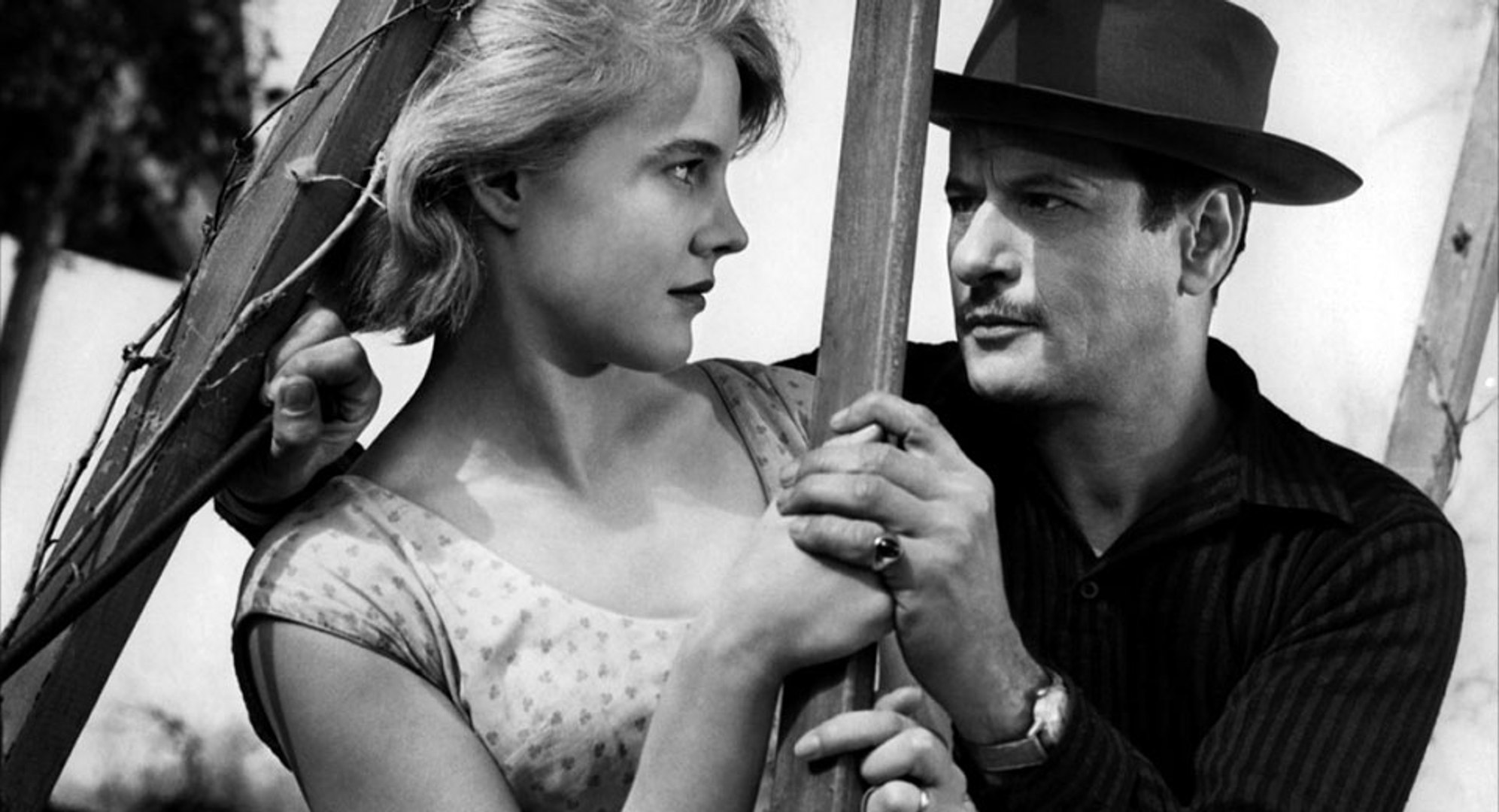 Baby Doll – In 1956, this deliciously squalid melodrama (directed by Elia Kazan and written by Tennessee Williams) was decried by the "Legion of Decency" for  "carnal suggestiveness". Granted, there is something suggestive about a sultry, PJ-clad 19 year old (Carroll Baker) curled up in a child's crib, sucking her thumb. This is our first glimpse of the young woman recently betrothed to creepy old Archie (Karl Malden). Archie is breathlessly counting down to Baby Doll's imminent birthday. She was 18 on her wedding day, but Archie is beholden to an agreement of  "no consummation" until she's 20.
In return, Archie has promised to renovate his rundown cotton gin so he can bathe her in luxury, 'til death do they part. However, Archie is as bereft of coin as he is lustful in loin. This leads to an ill-advised act that  gets him in hot water with his prosperous business rival (Eli Wallach). Instead of getting mad, Wallach decides to get even…by seducing Baby Doll. The seduction scene is a classic; it "shows" little, yet implies much (it is left up to your imagination).
Crazy Love – For the benefit of readers unfamiliar with the Bizarro World "love story" of Burt and Linda Pugach, I won't risk spoilers regarding this 2007 documentary. Suffice it say, if you think you've seen it all when it comes to obsession and dysfunction in romantic relationships, you ain't seen nuthin' yet. I will divulge this much- despite the odious nature of the act one of these two people visits upon the other at one point in their relationship, it's still not cut and dry as to whose "side" you want to be on, because both of these people got off the bus in Crazy Town a long time ago. This film is the antonym for "date movie". Dan Klores and Fisher Stevens directed.
Happiness – If you you're partial to network narratives populated  by emotionally needy neurotics, this 1998 Todd Solondz film is in your wheelhouse. Bold performances all around in this veritable merry-go-round of modern dysfunction, as you watch a sad parade of completely hapless individuals make desperate, cringe-inducing stabs at establishing meaningful connections sometime before they die (the human condition?). Standouts in the huge cast include the late Philip Seymour Hoffman, Lara Flynn Boyle, Jane Adams, Dylan Baker and Camryn Manheim. Keep a pint of Ben and Jerry's handy.
The Honeymoon Killers – Several decades before Natural Born Killers was even a gleam in Oliver Stone's eye, writer-director Leonard Kastle made this highly effective low-budget exploitation film (based on a true story) about a pair of murderous lovebirds. Martha (Shirley Stoler) and Ray (Tony Lo Bianco) meet via a "lonely hearts" correspondence club and find that they have a lot more in common than the usual love of candlelit dinners and walks on the beach.
Namely, they're both full-blown sociopaths, who cook up a scheme to lure lonely women into their orbit so they can kill them and take their assets. Stoler and Lo Bianco have a palpable chemistry as the twisted couple. The stark B & W photography and verite approach enhances the unsettling vibe. Martin Scorsese was the original director, but was quickly fired (!). This was Kastle's only film.
The Night Porter – Director Liliana Cavani brilliantly uses a story of a sadomasochistic relationship as both an allusion to the horrors of Hitler's Germany and a treatise on sexual politics. Dirk Bogarde and Charlotte Rampling deliver intense, brooding performances as a former SS officer and a concentration camp survivor who become entwined in a twisted, doomed relationship years after WW2. Steeped in decadence, deeply disturbing, yet…weirdly compelling.
Sid and Nancy – The ultimate love story…for nihilists. Director Alex Cox has never been accused of subtlety, and there's certainly a glorious lack of it here in his over-the-top 1986 biopic about the doomed relationship between Sex Pistols bassist Sid Vicious and his girlfriend Nancy Spungen. Gary Oldman and Chloe Webb chew all the available scenery as they shoot up, turn on and check out. Okay, it is a bit of a downer, but the cast is outstanding, and Cox (who co-scripted with Abbe Wool) injects a fair amount of dark comedy ("Eeew, Sid! I look like fuckin' Stevie Nicks in hippie clothes!"). The movie also benefits from outstanding cinematography by Roger Deakins.
Smash Palace – Dramatic films about  the disintegration of a marriage aren't a romp in the fields to begin with (and as date movies…it's safe to say that they are right out), but can be particularly heart-wrenching when children are involved (e.g. Kramer vs Kramer or Shoot the Moon). Few are as raw and emotionally draining as this nearly forgotten 1981 gem from New Zealand.
An early effort from writer-director Roger Donaldson (The Bounty, No Way Out, Thirteen Days), the film features a riveting performance by Bruno Lawrence, as an eccentric race car driver/salvage yard owner who neglects his wife (Anna Maria Monticelli) to the point where she has an affair. The cuckolded hubby (already a walking time bomb) does not react well. Donaldson sustains an incredible sense of tension. Absorbing and unpredictable right up to the end.
Swept Away – The time-honored "man and woman stuck on a desert island" scenario is served up with a heaping tablespoon of class struggle and an acidic twist of sexual politics in this controversial 1975 film from Italian director Lena Wertmuller. A shrill and haughty bourgeoisie woman (Mariangela Melato) charters a yacht cruise for herself and her equally obnoxious fascist friends, who all seem to delight in belittling their slovenly deck hand (Giancarlo Giannini), who is a card-carrying communist. Fate and circumstance conspire to strand Melato and Giannini together on a small Mediterranean isle, setting the stage for some interesting role reversal games. BTW, in case you are curious about the Guy Ritchie/Madonna remake? Here's a two-word review: Stay away!
Who's Afraid of Virginia Woolf? – If words were needles, university history professor George (Richard Burton) and his wife Martha (Elizabeth Taylor) would look like a pair of porcupines, because after years of shrill, shrieking matrimony, these two have become maestros of the barbed insult, and the poster children for the old axiom, "you only hurt the one you love".   Mike Nichols' 1966 directing debut (adapted by Ernest Lehman from Edward Albee's Tony-winning stage play) gives us a peek into one night in the life of this battle-scarred middle-aged couple.
After a faculty party, George and Martha invite a young newlywed couple (George Segal and Sandy Dennis) over for a nightcap. As the ever-flowing alcohol kicks in, the evening becomes a veritable primer in bad human behavior. It's basically a four-person play, but these are all fine actors, and the writing is the real star of this piece.
Everyone in the cast is fabulous, but Taylor is the particular standout; this was a breakthrough performance for her in the sense that she proved beyond a doubt that she was more than just a pretty face. Don't forget, the actress behind this blowsy, 50-ish character was only 34 (and, of course, a genuine stunner). When "Martha" says "Look, sweetheart. I can drink you under any goddam table you want…so don't worry about me," you don't doubt that she really can.
Your Friends and Neighbors – With friends and neighbors like these…oy. A very dark social satire from the Prince of Darkness himself, playwright-writer-director Neil LaBute (In the Company of Men, Nurse Betty). As in most LaBute narratives, there's nary a sympathetic character in sight in this study of two unhappy couples and their circle of unhappy friends. Everybody makes bad choices and generally treat each other like shit. Cynical, appalling, and perversely funny. You'll love it! Aaron Eckart, Jason Patric, Amy Brenneman, Catherine Keener, Nastassja Kinski, and Ben Stiller make a crack ensemble.
…and now here's the late great Harry Nilsson to sing us out: