By Dennis Hartley
(Originally posted on Digby's Hullabaloo on March 18, 2023)
With Saint Patrick's celebrations in full swing this weekend, I thought I'd help you get your Irish up and drive those snakes from your media room with 15 grand film recommendations.
Sláinte!
The Commitments – Casting talented yet unknown actor/musicians to portray a group of talented yet unknown musicians was a stroke of genius by director Alan Parker. This "life imitating art imitating life" trick works wonders. The Commitments can be seen as a riff on Parker's 1980 film Fame; swapping the locale from New York City to Dublin (there's a bit of a wink in a scene where one of the band members breaks into a parody of the Fame theme).
However, these working-class kids don't have the luxury of attending a performing arts academy; there's an undercurrent referencing the economic downturn in the British Isles. The acting chemistry is superb, but it's the musical performances that shine, especially from (then) 16-year old Andrew Strong. In 2007, cast member Glen Hansard co-starred in John Carney's surprise low-budget hit, Once, a lovely character study that would make a perfect double bill with The Commitments.
Darby O'Gill and the Little People – Sean Connery…in a film about leprechauns?! Well, stranger things have happened. Albert Sharpe gives a delightful performance as lead character Darby O'Gill in this 1959 fantasy from perennially family-friendly director Robert Stevenson (Mary Poppins, The Love Bug, The Absent-Minded Professor, That Darn Cat!).
Darby is a crusty yet benign b.s. artist who finds himself embroiled in the kind of tale no one would believe if he told them it were true-matching wits with the King of the Leprechauns (Jimmy O'Dea), who has offered to play matchmaker between Darby's daughter (Janet Munro) and the strapping pre-Bond Connery. The special effects hold up surprisingly well (considering the limitations of the time). The scenes between Sharpe and O'Dea are especially amusing. "Careful what you say…I speak Gaelic too!".
A Date for Mad Mary – Seana Kerslake makes a remarkable debut in Darren Thornton's 2017 dramedy (co-written by the director with his brother Colin) about a troubled young woman who is being dragged kicking and screaming (and swearing like a sailor) into adulthood. Fresh from 6 months in a Dublin jail for instigating a drunken altercation, 20-year-old "mad" Mary (Kerslake) is asked to be maid of honor by her BFF Charlene. Assuming that her volatile friend won't find a date, Charlene refuses her a "plus one". Ever the contrarian, Mary insists she will; leading to an unexpected relationship.
Garage – At once heartbreaking and uplifting, this 2007 character study by director Leonard Abrahamson and writer Mark O'Halloran is an underappreciated gem. It's a deceptively simple story about an emotionally stunted yet affable thirty-something bachelor named Josie (Pat Shortt), who tends a gas station in a small country village (he bunks in the garage). When he befriends a teenager (Conor Ryan) who takes a summer job at the gas station, it unexpectedly sets off a chain of life-shaking events for Josie. Shortt (a popular comic in his home country) gives an astonishing performance. I like the way the film continually challenges expectations. An insightful and affecting glimpse at the human condition.
Hear My Song – This charming, quirky comedy-drama from writer-director Peter Chelsom (Funny Bones) concerns an Irish club-owner in England (Adrian Dunbar) who's having a streak of bad luck. He's not only on the outs with his lovely fiancée (Tara Fitzgerald), but is forced to shut down his venue after a series of dud bookings (like "Franc Cinatra") puts him seriously in the red. Determined to win back his ladylove and get his club back in the black, he stows away on a freighter headed for his native Dublin. He enlists an old pal to help him hunt down and book a legendary tenor (Ned Beatty, in one of his best roles) who has hasn't performed publicly in decades. Fabulous script, direction, and acting. Funny, touching and guaranteed to lift your spirits.
I Am Belfast – I try not to use "visual tone poem" as a descriptive if I can avoid it…but sometimes, there is no avoiding it. As in this case, with Irish director Mark Cousins' meditation on his beloved home city. Part documentary and part (here it comes) visual tone poem, Cousins ponders the past, present and possible future of Belfast's people, legacy and spirit.
I'm fairly sure Cousins is going for the vibe of the 1988 Terence Davies film Distant Voices, Still Lives, a similar mélange of sense memory, fluid timelines and painterly visuals (he waxes poetically about the aforementioned film in his epic 15-hour documentary, The Story of Film). Lovely cinematography by Christopher Doyle. A rewarding experience for patient viewers.
In Bruges – OK, full disclosure. In my original review, I gave this 2008 Sundance hit a somewhat lukewarm appraisal. But upon a second viewing, then a third… I realized that I like this film quite a lot (happens sometimes…nobody's perfect!).
A pair of Irish hit men (Brendan Gleeson and Colin Farrell) botch a job in London and are exiled to the Belgian city of Bruges, where they are ordered to lay low until their piqued Cockney employer (an over the top Ray Fiennes) dictates their next move. What ensues can be best described as a tragicomic Boschian nightmare (which will make more sense once you've seen it).
Writer-director Martin McDonagh (who deftly juggles "fook" as a noun, adverb, super adverb and adjective) re-enlisted In Bruges stars Gleeson and Farrell as the leads for his Oscar-nominated 2022 dramedy The Banshees of Inisherin (also recommended!).
Into the West – A gem from one of the more underappreciated "all-purpose" directors, Mike Newell (Dance With a Stranger, Enchanted April, Four Weddings and a Funeral, Donnie Brasco, Pushing Tin). At first glance, it falls into the "magical family film" category, but it carries a subtly dark undercurrent with it throughout, which keeps it interesting for the adults in the room. Lovely performances, a magic horse, and one pretty pair o' humans (Ellen Barkin and Gabriel Byrne, real-life spouses at the time).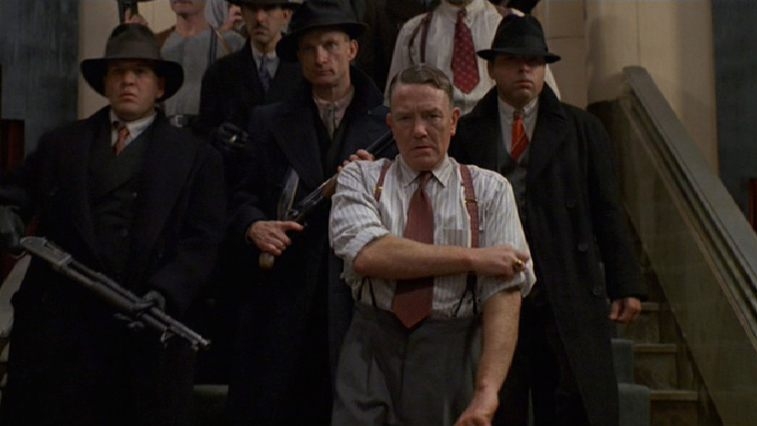 Miller's Crossing–his 1990 gangster flick could only come from the unique mind-meld of Joel and Ethan Coen (with shades of Dasheill Hammet). The late Albert Finney is excellent as an Irish mob boss engaging in a power struggle with the local Italian mob during the Prohibition era. Gabriel Byrne (the central character of the film) portrays his advisor, who attempts to broker peace.
You do have to pay attention in order to keep up with the constantly shifting alliances and betrayals and such; but as with most Coen Brothers movies, if you lose track of the narrative you always have plenty of great supporting performances (particularly from Marcia Gay Harden and John Torturro) , stylish flourishes, and mordant humor to chew on until you catch up again.
My Left Foot – The first (and best) of three collaborations between writer-director Jim Sheridan and actor Daniel Day-Lewis (1993's In the Name of the Father and 1997's The Boxer were to follow). This moving 1989 biopic concerns Christy Brown, a severely palsied man who became a renowned author, poet and painter despite daunting physical challenges.
Thankfully, the film makers avoid the audience-pandering shtick of turning its protagonist into the cinematic equivalent of a lovable puppy (see Rainman, I Am Sam); Brown is fearlessly portrayed by Day-Lewis "warts and all" with peccadilloes laid bare. As a result, you acclimate to Day-Lewis' physical tics, allowing Brown to emerge as a complex human being, not merely an object of pity.
Day-Lewis deservedly picked up an Oscar, as did Brenda Fricker, who snagged Best Supporting Actress as Brown's mother. Don't let Day-Lewis' presence overshadow 13-year old Hugh O'Conor's work as young Christy; he gives an equally impressive performance.
Odd Man Out – An absorbing film noir from the great director Carol Reed (The Third Man, The Fallen Idol). James Mason is excellent as a gravely wounded Irish rebel who is on the run from the authorities through the shadowy backstreets of Belfast. Interestingly, the I.R.A. is never referred to directly, but the turmoil borne of Northern Ireland's "troubles" is definitely implied by word and action throughout F.L. Green and R.C. Sherriff's intelligent screenplay (adapted from Green's original novel). Unique for its time, it still holds up well as a "heist gone wrong"/chase thriller with political undercurrents. The top-notch cast includes Robert Newton and Cyril Cusack.
Older Than Ireland – With age, comes wisdom. Just don't ask a centenarian to impart any, because they might smack you. Not that there is violence in Alex Fegan and Garry Walsh's doc, but there is consensus among interviewees (aged 100-113) that the question they find most irksome is: "What's your secret to living so long?" Once that hurdle is cleared, Fegan and Walsh's subjects have much to impart in this moving and entertaining pastiche of the human experience. Do yourself a favor: turn off your personal devices, watch this wondrous film and plug yourself into humankind's forgotten backup system: the Oral Tradition.  (Full review)
The Quiet Man – I'll admit to never having been a huge John Wayne fan, but he's perfect in this John Ford classic as a down-on-his-luck boxer who leaves America to get in touch with his roots in his native Ireland. The most entertaining (and purloined) donnybrook of all time, plus a fiery performance from gorgeous Maureen O'Hara round things off nicely. Although tame by modern standards, romantic scenes between Wayne and O'Hara are quite fervid for the era. The pastoral valleys and rolling hills of the Irish countryside have never looked lovelier, thanks to Winton C. Hoch and Archie Stout's Oscar-winning cinematography.
The Secret of Roan Inish – John Sayles delivers an engaging fairy tale, devoid of the usual genre clichés. Wistful, haunting and beautifully shot by the great cinematographer Haskell Wexler, who captures the misty desolation of County Donegal's rugged coastline in a way that frequently recalls Michael Powell's similarly effective utilization of Scotland's Shetland Islands for his 1937 classic, The Edge of the World. The seals should have received a special Oscar for Best Performance by a Sea Mammal. Ork, ork!
his 2014 animated fantasy from writer-director Tomm Moore centers on a melancholic lighthouse keeper named Conor (voiced by Brendan Gleeson), who is raising his young son and daughter following the tragic loss of his wife, who died in childbirth.
After his daughter is nearly swept out to sea one night, Conor decides the children would be better off staying with their grandmother in the city. The kids aren't so crazy about this plan; after a few days with grandma they make a run for it. Before they can wend their way back home, they are waylaid by a succession of characters that seem to have popped out of one of the traditional Irish fairy tales that Conor's mother used to tell him as a child.
Moore's film has a timeless quality and a visual aesthetic on par with the best of Studio Ghibli. There is something in Moore's hand-drawn animation that I find sorely lacking in the computer-generated "product" glutting multiplexes these days: genuine heart.