By Dennis Hartley
(Originally posted on Digby's Hullabaloo on January 30, 2021)
Without music, life would be a mistake. – Friedrich Nietzsche
After 11 months of hunkering down, I'd imagine "Netflix fatigue" is setting in for some (you know…when you spend more time scrolling for something "interesting" than actually watching anything). Buck up, little camper… there are still many worthwhile films-you just need to know where to look. With that in mind, I've combed my 2011-2020 review archives and picked out the 10 top music docs of the decade. If music be the food of love, play on!
Big Star: Nothing Can Hurt Me – Founded in 1971 by singer-guitarist Chris Bell and ex-Box Tops lead singer/guitarist Alex Chilton, the Beatle-esque Big Star was a anomaly in their hometown of Memphis, which was only the first of many hurdles this talented band was to face during their brief, tumultuous career. Now considered one of the seminal influences on the "power pop" genre, the band was largely ignored by record buyers during their heyday (despite critical acclaim from the likes of Rolling Stone).
Then, in the mid-1980s, a cult following steadily began to build around the long-defunct outfit after college radio darlings like R.E.M., the Dbs and the Replacements began lauding them as an inspiration. In this fine 2013 rockumentary, director Drew DeNicola also tracks the lives of the four members beyond the 1974 breakup, which is the most riveting (and heart wrenching) part of the tale. Pure nirvana for power-pop aficionados.
Gimme Danger – Well it's 1969 OK, all across the USA/It's another year for me and you/Another year with nuthin' to do/Last year I was 21, I didn't have a lot of fun/And now I'm gonna be 22/I say oh my, and a boo-hoo (from "1969" by The Stooges)
They sure don't write 'em like that anymore. The composer is one Mr. James Osterberg, perhaps best known by his show biz nom de plume, Iggy Pop. Did you know that this economical lyric style was inspired by Buffalo Bob…who used to encourage Howdy Doody's followers to limit fan letters and postcards to "25 words or less"? That's one of the revelations in Jim Jarmusch's 2016 cinematic fan letter to one of his idols.
Jarmusch is a bit nebulous regarding the breakups, reunions, and shuffling of personnel that ensued during the band's heyday (1967-1974), but that may not be so much his conscious choice as it is acquiescing to (present day) Iggy's selective recollections (Iggy does admit drugs were a factor).
While Jarmusch also interviews original Stooges Ron Asheton (guitar), and his brother Scott Asheton (drums), their footage is sparse (sadly, both have since passed away). Bassist Dave Alexander, who died in 1975, is relegated to archival interviews. Guitarist James Williamson (who played on Raw Power) and alt-rock Renaissance man Mike Watt (the latter-day Stooges bassist) contribute anecdotes as well.
A few nitpicks aside, this is the most comprehensive retrospective to date regarding this influential band; it was enough to make this long-time fan happy, and to perhaps enlighten casual fans, or the curious. (Full review)
Heart of a Dog – I love Laurie Anderson's voice. In fact, it was love at first sound, from the moment I heard "O Superman" wafting from my FM radio late one night back in the early 1980s. It was The Voice…at once maternal, sisterly, wise, reassuring, confiding, lilting, impish. Hell, she could read the nutritional label on a box of corn flakes out loud…and to me it would sound artful, thoughtful, mesmerizing.
It's hard to describe her 2015 film; I'm struggling mightily not to pull out the good old reliable "visual tone poem". (Moment of awkward silence). Okay, I blinked first…it's a visual tone poem, alright? Even Anderson herself is a somewhat spectral presence in her own movie, which (like the artist herself), is an impressionistic mixed media mélange of drawings, animations, video, and even vintage super 8 family movies from her childhood.
You could say that Death is Anderson's co-pilot on this journey to the center of her mind. But it's not a sad journey. It's melancholy and deeply reflective, but it's never sad. (Full review)
Janis Joplin: Little Girl Blue – In Amy Berg's 2015 documentary, we see a fair amount of "Janis Joplin", the confident and powerful cosmic blues-rocker; but the primary focus of the film is one Janis Lyn Joplin, the vulnerable and insecure "little girl blue" from Port Arthur, Texas who lived inside her right up until her untimely overdose at age 27 in 1970.
"She" is revealed via excerpts drawn from an apparent trove of private letters, confided in ingratiating fashion by whisky-voiced narrator Chan Marshall (aka "Cat Power"). This is what separates Berg's film from Howard Alk's 1974 documentary Janis, which leaned exclusively on archival interviews and performance footage. Berg mines clips from the same vaults, but renders a more intimate portrait, augmented by present-day insights from Joplin's siblings, close friends, fellow musicians, and significant others.
Despite undercurrents of melancholy and sadness and considering that we know going in that it is not going to have a Hollywood ending, the film is surprisingly upbeat. Joplin's intelligence, sense of humor and joie de vivre shine through as well, and Berg celebrates her legacy of empowerment for a generation of female musicians who followed in her wake. On one long dark night of her soul, that "ball and chain" finally got too heavy to manage, but not before she was able to wield it to knock down a few doors. (Full review)
Linda Ronstadt: The Sound of My Voice – Ronstadt (and that truly wondrous voice) is the subject of this intimate 2019 documentary portrait by directing tag team Rob Epstein and Jeffrey Friedman (The Celluloid Closet, Howl, Lovelace). The film is narrated by Ronstadt herself (archival footage aside, she only appears on camera briefly at the end of the film).
Bad news first (this is a matter of public record, so not a spoiler). While Ms. Ronstadt herself is still very much with us, sadly "that wondrous voice" is not. In 2012 she was diagnosed with Parkinson's disease (she mentions in the film that it runs in her family), which has profoundly affected her ability to sing. That said, she remains sharp as a tack; in turns deeply thoughtful and charmingly self-effacing as she reflects on her life and career.
For those of us "of a certain age", Ronstadt's songbook is so ingrained in our neurons that we rarely stop to consider what an impressive achievement it was for her to traverse so much varied musical terrain-and to conquer it so effortlessly at each turn.
What struck me most as I watched the film is her humility in the wake of prodigious achievement. I don't get an impression the eclecticism stems from calculated careerism, but rather from a genuine drive for artistic exploration. (Full review)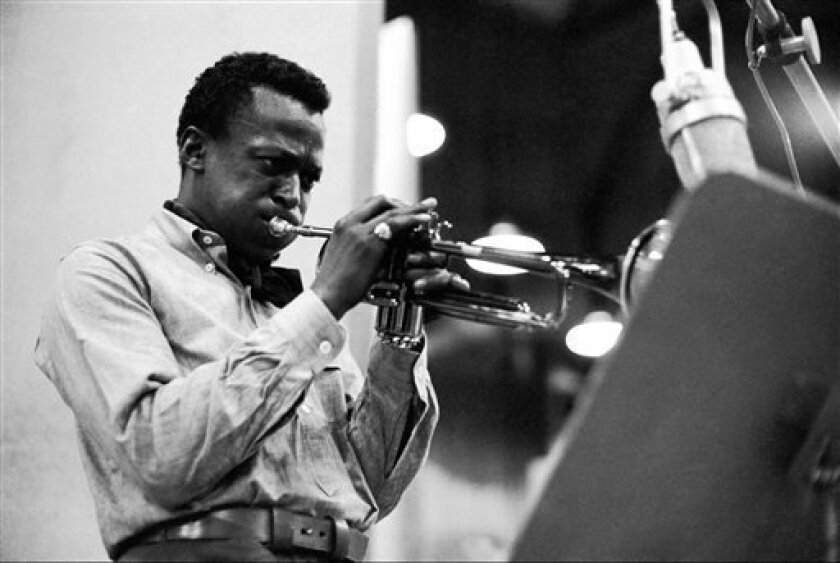 Miles Davis: Birth of the Cool  – Few artists are as synonymous with "cool" as innovative musician-arranger-band leader Miles Davis. That's not to say he didn't encounter some sour notes during his ascent to the pantheon of jazz (like unresolved issues from growing up in the shadow of domestic violence, and traumatic run-ins with racism-even at the height of fame). Sadly, as you learn while watching Stanley Nelson's slick and engrossing 2019 documentary, much of the dissonance in Davis' life journey was of his own making (substance abuse, his mercurial nature). Such is the dichotomy of genius.
Produced by George Martin – While no one can deny the inherent musical genius of the Beatles, it's worth speculating whether they would have reached the same dizzying heights of creativity and artistic growth (and over the same 7-year period) had the lads never crossed paths with Sir George Martin. It's a testament to the unique symbiosis between the Fabs and their gifted producer that one can't think of one without also thinking of the other. Yet there is much more to Martin than this celebrated collaboration.
Martin is profiled in this engaging and beautifully crafted 2011 BBC documentary. The film traces his career from the early 50s to present day. His early days at EMI are particularly fascinating; a generous portion of the film focuses on his work there producing classical and comedy recordings.
Disparate as Martin's early work appears to be from the rock 'n' roll milieu, I think it prepped him for his future collaboration with the Fabs, on a personal and professional level. His experience with comics likely helped the relatively reserved producer acclimate to the Beatles' irreverent sense of humor, and Martin's classical training and gift for arrangement certainly helped to guide their creativity to a higher level of sophistication.
81 at the time of filming, Martin (who passed away in 2016) is spry, full of great anecdotes and a class act all the way. He provides some candid moments; there is visible emotion from the usually unflappable Martin when he admits how betrayed he felt when John Lennon curtly informed him at the 11th hour that his "services would not be needed" for the Let it Be sessions (the band went with the mercurial Phil Spector, who infamously overproduced the album). Insightful interviews with artists who have worked with Martin (and admiring peers) round things off nicely. (Full review)
Ryuichi Sakamoto: Coda – There's a wonderful moment of Zen in Stephen Nomura Schible's 2018 documentary where his subject, Japanese composer Ryuichi Sakamoto, after much experimentation with various "found" sounds, finally gets the "perfect" tonality for one single note of a work in progress. "It's strangely bright," he observes, with the delighted face of a child on Christmas morning, "but also…melancholic."
One could say the same about Schible's film; it's strangely bright, but also melancholic. You could also say it is but a series of such Zen moments, a deeply reflective and meditative glimpse at the most intimate workings of the creative process. It's also a document of Sakamoto's quiet fortitude, as he returns to the studio after taking a hiatus to engage in anti-nuke activism and to battle his cancer. A truly remarkable film.
The Theory of Obscurity  – As defined in The Theory of Obscurity: a film about The Residents (and by the artists themselves) the Residents are not a "band" …so much as they are an ongoing art installation.
In his 2016 film, Director Don Hardy Jr. took on the unenviable task of profiling a band who have not only refused to reveal their faces in any billed public appearances over a 40-year career but continue to this day to willfully obfuscate their backstory (and the fact that publicity is handled through their self-managed "Cryptic Corporation" puts the kibosh on any hopes of discovery).
Attempting to describe their music almost begs its own thesis-length dissertation; it's best understood by simply sampling it yourself. Just don't expect anything conventional. Or consistent; they are experimental in every sense of the word.
The Residents have been more musically influential than one may assume; members of Devo, Primus, Ween and the Talking Heads are on hand to testify as such. I was a little surprised that Daft Punk isn't mentioned, especially since they literally wear their influences on their sleeves (well, in this case, their heads). While The Residents are not for all tastes, Hardy has fashioned an ingratiating, maybe even definitive, portrait of them. (Full review)
The Wrecking Crew – "The Wrecking Crew" was a moniker given to an aggregation of crack L.A. session players who in essence created the distinctive pop "sound" that defined classic Top 40 from the late 50s through the mid-70s. With several notable exceptions (Glen Campbell, Leon Russell and Mac "Dr. John" Rebennack) their names remain obscure to the general public, even if the music they helped forge is forever burned into our collective neurons.
This 2015 documentary was a labor of love in every sense of the word for first-time director Denny Tedesco, whose late father was the guitarist extraordinaire Tommy Tedesco, a premier member of the team.
Tedesco traces origins of the Wrecking Crew, from participation in co-creating the legendary "Wall of Sound" of the early 60s (lorded over by mercurial pop savant Phil Spector) to collaborations with Brian Wilson (most notably, on the Beach Boys' seminal Pet Sounds album) and backing sessions with just about any other chart-topping artists of the era you would care to mention.
Tedesco has curated fascinating vintage studio footage, as well as archival and present-day interviews with key players. You also hear from some of the producers who utilized their talents. Tedesco assembled a group of surviving members to swap anecdotes…and they have got some great stories to tell. Tedesco's film is a celebration of a unique era of popular art that (love it or loathe it), literally provided the "soundtrack of our lives" for some of us of a (ahem) certain age. (Full review).