By Dennis Hartley
(Originally posted on Digby's Hullabaloo on August 24, 2021)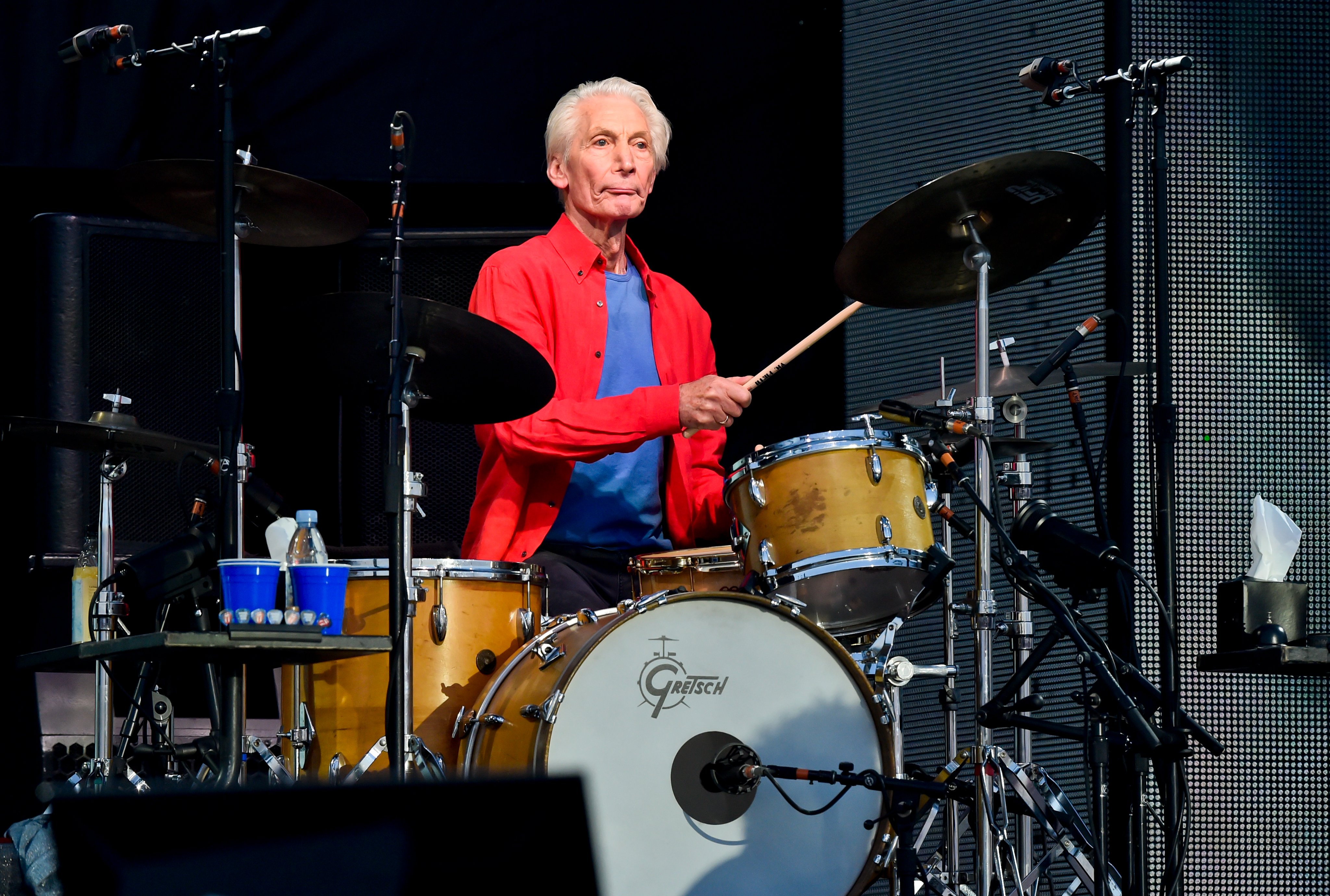 Well, it sucked to rub my sleepy eyes and see this circulating on social media today: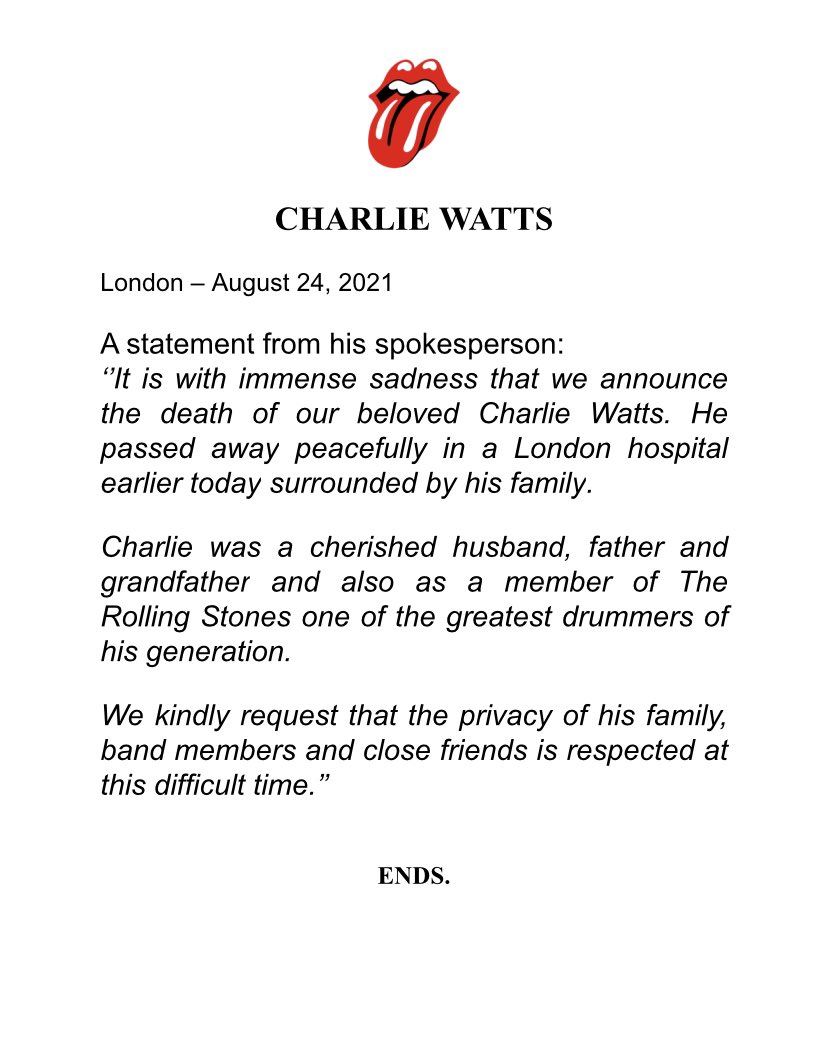 Stalwart to the end, Charlie Watts was the "rock" in rock 'n' roll. Solid, reliable, resolute. He sat Sphinx-like behind his kit for over 50 years, laying down a steady beat while remaining seemingly impassive to all the madness and mayhem that came with the job of being a Rolling Stone. He was cool as a cucumber, as impeccably tailored and enigmatic as Reynolds Woodcock. "Reynolds Who?" As I wrote in my 2018 review of Paul Thomas Anderson's The Phantom Thread:
As I watched [Daniel] Day-Lewis' elegantly measured characterization unfold, I kept flashing on the lyrics from an old Queen song. Reynolds Woodcock is well versed in etiquette, insatiable in appetite, fastidious and precise-and guaranteed to blow your mind.

This is one weird cat; which is to say, a typical Anderson study. Handsome, charismatic and exquisitely tailored, Woodcock easily charms any woman in his proximity, yet…something about him is cold and distant as the moon.

He may even be on the spectrum, with his intense focus and single-mindedness about his work (or perhaps that's the definition of genius, in any profession?).
I'm not suggesting Charlie was on the spectrum (not that there would be anything wrong with that), but the intense focus was visible; the genius evident. The fascinating thing about his drumming was that you couldn't always "hear" it, but his contribution was just as essential to the Stones' gestalt as Keith's open 'G' riffs or Mick's "rooster on acid" stagecraft. He wasn't all about Baker flash, Bonzo bash or Moonie thrash…he was, as Liz Phair distilled it so beautifully today-a "master of elegant simplicity".
Smiling faces I can see
But not for me
I sit and watch
As tears go by
Rest in rhythm, Mr. Watts.
(The following piece was originally posted on Digby's Hullabaloo on  March 26, 2016)
"I think that, finally, the times are changing. No?"-Mick Jagger, addressing 450,000 fans at the 2016 Havana concert
It's been quite a groundbreaking week for Cuba, kicking off with the first official U.S. presidential visit since 1928, and closing out with last night's free Rolling Stones concert at the Ciudad Deportiva stadium in Havana. While it marked the first Cuba appearance for the Stones, the boys have seen many moons since their first-ever gig, 54 years ago (!) at London's Marquee Club.
The fledgling band wore their influences on their sleeves that night (July 12, 1962) with a covers-only set that included songs by Chuck Berry, Elmore James, Jimmy Reed, Muddy Waters, and Robert Johnson. And despite the odd foray into chamber pop, psychedelia, country-rock and disco over time, they haven't really strayed too awfully far from those roots. They simply remain…The Stones (it's only rock 'n' roll).
In honor of their contribution to helping thaw out the last vestiges of the Cold War, here are my top 5 picks of films featuring the Rolling Stones (in alphabetical order, as usual).
Charlie is My Darling – The Rolling Stones did a few dates in Ireland in 1965, and filmmaker Peter Whitehead tagged along, resulting in this somewhat short (60 minute) but historically vital cinema verite-style documentary. We see a ridiculously young Stones at a time when they were still feeling their way through their own version of Beatlemania (although it's interesting to note that it's primarily the lads in the audience who are seen crying hysterically and rushing the stage!).
In a hotel room scene, Jagger and Richards work out lyrics and chord changes for the song "Sittin' on a Fence" (which wouldn't appear until a couple years later on the Flowers album). The concert footage captures the band in all of its early career "rave up" glory (including a wild onstage riot). The film recalls P.A. Pennebaker's Don't Look Back (filmed the same year), which similarly followed Bob Dylan around while he was in London to perform several shows.
Gimme Shelter – It's unfortunate that Albert and David Maysles' 1970 film is chiefly known for its inclusion of (unwittingly captured) footage of the infamous incident at a 1969 Rolling Stones' free concert at the Altamont Speedway in California where a man near the front of the stage was stabbed to death in full view of horrified fellow concertgoers by members of the Hell's Angels (who were providing "security" for the show)-but there you have it. Those scant seconds of the doc's running time have forever tainted what is otherwise (rightfully) hailed as one of the top rockumentaries. One of the (less morbid) highlights of the film is footage of the Stones putting down the basic tracks for "Wild Horses" and "Brown Sugar" at Alabama's legendary Muscle Shoals Studios.
Let's Spend the Night Together– By the time I finally had an opportunity to catch the Stones live back in October of 1981 at San Francisco's Candlestick Park, Brian Jones was 12 years in the grave and the band was already being called "dinosaurs". Still, it was one those "bucket list" items that I felt obliged to fulfill (it turns out there was really no rush…who knew that Mick would still be prancing around in front of massive crowds like a rooster on acid 35 years later…and counting?).
At any rate, the late great Hal Ashby directed this 1983 concert film, documenting performances from that very same 1981 North American tour. Unadorned by cinematic glitz, but that's a good thing, as Ashby wisely steps back to let the performances shine through (unlike the distracting flash-cutting and vertigo-inducing, perpetual motion camera work that made Martin Scorsese's Shine a Light downright unwatchable for me). The set list spans their career, from "Time Is on My Side" to the 1981 hit "Start Me Up".
The Rolling Stones Rock and Roll Circus– Originally intended to air as a TV special, this 1968 film was shelved and "lost" for nearly 30 years, until its belated restoration and home video release in the mid-90s. Presaging "mini concert" programs like The Midnight Special and Don Kirshner's Rock Concert that would flourish in the 70s, the idea was to assemble a sort of "dream bill" of artists performing in an intimate, small theater setting.
Since it was their idea, the Stones were the headliners (of course!), with an impressive lineup of opening acts including The Who, John & Yoko, Jethro Tull, Taj Mahal and Marianne Faithfull. The "circus" theme (and the arrhythmic hippie dancing by the audience members) haven't dated so well, but the performances are fabulous.
Jagger's alleged reason for keeping the show on ice was that the Stones were displeased by their own performance; the whispered truth over the years is that Mick felt upstaged by the Who (they do a rousing rendition of "A Quick One"). Actually the Stones are good; highlighted by a punky version of "Jumpin' Jack Flash", and a great "No Expectations" (featuring lovely embellishments from Brian Jones on slide guitar and Nicky Hopkins on piano).
Sympathy for the Devil – Relatively unseen prior to home video release, this 1968 film (aka One plus One) tends to loom at bit larger as a legend in the minds of those who have name-checked it over the years than as a true "classic".
Director Jean-Luc Godard was given permission to film the Stones working on their Beggar's Banquet sessions. He inter-cuts with footage featuring Black Panthers expounding on The Revolution, a man reciting passages from Mein Kampf, and awkwardly executed "guerilla theater" vignettes (it was the 60s, man).
While I think we "get" the analogy between the Stones building the layers of the eponymous song in the studio and the seeds of change being sown in the streets, the rhetoric becomes grating. Still, it's a fascinating curio, and the intimate, beautifully shot footage of the Stones offers a rare "fly on the wall" peek at their creative process.