By Dennis Hartley
(Originally posted on Digby's Hullabaloo on April 11, 2020)
So movie theaters are shuttered, the balcony is closed, and film festivals are right out.
Normally, right about now I would be submitting for my press credentials to cover one of the largest film festivals in the country. But as you are aware, these are not normal times.
No worries. I've been covering the annual Seattle International Film Festival for Digby's Hullabaloo since 2006. Over the 14 years, I've reviewed over 200 festival selections. So I thought I'd comb the archives and curate a sort of Best of the Festival Festival (since the acronym for that is BOFF-for the sake of decorum, I felt I ought not to use it as a header).
So welcome to Week 1 of VIFF! These 10 fine selections are all available via streaming:
Another Earth (Amazon Prime Video) – Writer-director Mike Cahill's auspicious narrative feature debut concerns an M.I.T.-bound young woman (co-scripter Brit Marling) who makes a fateful decision to get behind the wheel after a few belts. The resultant tragedy kills two people, and leaves the life of the survivor, a music composer (William Mapother) in shambles. After serving prison time, the guilt-wracked young woman, determined to do penance, ingratiates herself into the widower's life (he doesn't realize who she is). Complications ensue.
Another Earth is a "sci-fi" film mostly in the academic sense; don't expect to see CGI aliens in 3-D. Orbiting somewhere in proximity of Andrei Tarkovsky's Solaris, its concerns are more metaphysical than astrophysical. And not unlike a Tarkovsky film, it demands your full and undivided attention. Prepare to have your mind blown. (Full review)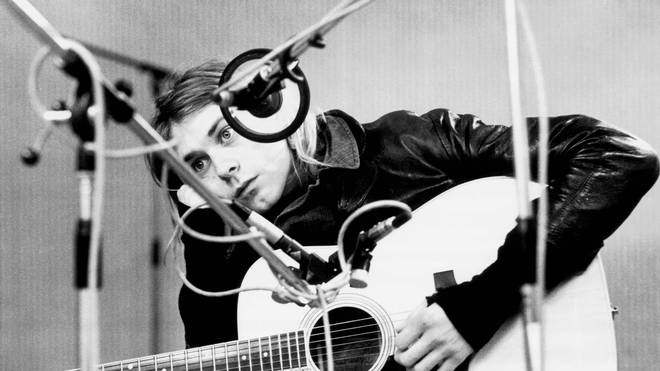 Kurt Cobain: About a Son (YouTube, iTunes) – A.J. Schnack's documentary is a unique, impressionistic portrait of musician Kurt Cobain's short life. There are none of the usual talking head interviews or performance clips here; there's nary a photo image of Cobain or Nirvana displayed until a good hour into the film. Schnack was given access to a series of frank and intimate audio interviews that Cobain recorded at his Seattle home circa 1992-1993. Schnack marries up Cobain's childhood and teenage recollections with beautifully shot footage of Cobain's hometown of Aberdeen and its environs.
The combination of Cobain's narration with the visuals is eerie; you feel that you are inside Cobain's temporal memories-kicking aimlessly around the cultural vacuum of a blue collar logging town, walking the halls of his high school, sleeping under a railroad bridge, sitting on a mattress on a crash pad floor and practicing guitar for hours on end.
The film is an antithesis to Nick Broomfield's comparatively sensationalist rock doc Kurt and Courtney. Whereas Broomfield set out with a backhoe to dig up as much dirt as quickly as possible in attempting to uncover Cobain's story, Schnack opts for a more carefully controlled excavation, gently brushing the dirt aside to expose the real artifact. (Full review)
Life of Reilly (Amazon Prime Video) – One interesting thing I learned watching this filmed performance of Charles Nelson Reilly's entertaining one-man show Save it for the Stage is that he was classically trained as a stage actor. Yes, that Charles Nelson Reilly, perhaps best known for his constant presence on the talk show/game show circuit from the late 60s onward. Reilly (who passed away in 2007) once wryly predicted his obits would contain the phrase "game show fixture".
Reilly runs the theatrical gamut, segueing from hilarious anecdote to moving soliloquy without missing a beat. He begins with a series of wonderful vignettes about growing up in the Bronx. After a promising start in "Miss (Uta) Hagen's $3 Tuesday afternoon acting class" in NYC in the early 50s, he hits a brick wall when he auditions for an NBC talent scout, only to be bluntly informed "They don't let queers (sic) on television."
Reilly got the last laugh; he recalls poring over TV Guide at the peak of his saturation on the tube, to play a game wherein he would count how many times his name would appear (including reruns). "I know I was once told I wasn't allowed on TV," he quips, "…but now I found myself thinking: Who do I fuck to get off?!" Funny, moving and inspiring. (Full review)
Mid-August Lunch (Amazon Prime Video) – This slice-of-life charmer from Italy, set during the mid-August Italian public holiday known as Ferragosto, was written and directed by Gianni Di Gregorio (who also co-scripted the critically-acclaimed 2009 gangster drama Gomorrah). Light in plot but rich in observational insight, it proves that sometimes, less is more.
The Robert Mitchum-ish Di Gregorio casts himself as Giovanni, a middle-aged bachelor living in Rome with his elderly mother. He doesn't work, because as he quips to a friend, taking care of mama is his "job". Although nothing appears to faze the easy-going Giovanni, his nearly saintly countenance is tested when his landlord, who wants to take a little weekend excursion with his mistress, asks for a "small" favor. Complications ensue.
It's the small moments that make this film such a delight. Giovanni reading Dumas aloud to his mother, until she quietly nods off in her chair. Two friends, sitting in the midday sun, enjoying white wine and watching the world go by. And in a scene that reminded me of a classic POV sequence in Fellini's Roma, Giovanni and his pal glide us through the streets of Rome on a sunny motorcycle ride. This mid-August lunch might offer you a somewhat limited menu, but you'll find that every morsel on it is well worth savoring. (Full review)
Monkey Warfare (iTunes) – Written and directed by Reginald Harkema, Monkey Warfare is a nice little cinematic bong hit of low-key political anarchy. The film stars Don McKellar and Tracy Wright (the Hepburn and Tracy of quirky Canadian cinema) as a longtime couple who are former lefty radical activists-turned "off the grid" Toronto slackers.
When McKellar loans the couple's free-spirited young pot dealer and budding anarchist (Nadia Litz) his treasured "mint copy" of a book about the Baader-Meinhof Gang, he unintentionally triggers a chain of events that will reawaken long dormant passions between the couple (amorous and political) and profoundly affect the lives of all three protagonists.
Monkey Warfare is not exactly a comedy, but Harkema's script is awash in trenchant humor. If you liked Jeremy Kagan's 1978 dramedy The Big Fix and/or Sidney Lumet's 1988 drama Running on Empty, I think this film should be right in your wheelhouse. (Full review)
Nowhere Boy (Netflix, iTunes, Showtime) – There's nary a tricksy or false note in this little gem from U.K. director Sam Taylor-Wood. Aaron Johnson gives a terrific, James Dean-worthy performance as a teenage John Lennon. The story focuses on a specific, crucially formative period of the musical icon's life beginning just prior to his first meet-up with Paul McCartney, and ending on the eve of the "Hamburg period".
The story is not so much about the Fabs, however, as it is about the complex and mercurial dynamic of the relationship between John, his Aunt Mimi (Kirstin Scott Thomas) and his mother Julia (Anne-Marie Duff). The entire cast is excellent, but Scott Thomas (one of the best actresses strolling the planet) handily walks away with the film as the woman who raised John from childhood. (Full review)
Poppy Shakespeare (tubi, Amazon Prime Video) – Anna Maxwell Martin breaks down the fourth wall and tears up the screen as "N", a mentally troubled young woman who has grown up as a ward of the state, shuffled about from foster care to government subsidized mental health providers for most of her life. She collects a "mad money" pension from the government, and spends most of her waking hours at a London "day hospital" (where many of the patients participate on a voluntary basis and are free to go home at night).
While there are some amusing moments, I need to warn you that this is pretty bleak fare. That being said, it is well written (Sarah Williams adapted from Clare Allan's novel) and directed (by Benjamin Ross, who also helmed The Young Poisoner's Handbook). The jabs at England's health care system remind me of Lindsay Anderson's "institutional" satires (Britannia Hospital in particular).
Naomie Harris is very affecting as the eponymous character, a fellow patient who befriends "N", but it is Martin who commands your attention throughout. She has a Glenda Jackson quality about her that tells me she will likely be around for a while. She's better than good. She's crazy good. (Full review)
Queen of the Sun (Amazon Prime Video) – I never thought that a documentary about honeybees would make me laugh and cry-but Taggart Siegel's 2010 film did just that. Appearing at first to be a distressing examination of Colony Collapse Syndrome, a phenomenon that has puzzled and dismayed beekeepers and scientists alike with its increasing frequency over the past few decades, the film becomes a sometimes joyous, sometimes humbling meditation on how essential these tiny yet complex social creatures are to the planet's life cycle. Humans may harbor a pretty high opinion of our own place on the evolutionary ladder, but Siegel lays out a convincing case which proves that these busy little creatures are, in fact, the boss of us. (Full review)
Telstar (YouTube, iTunes) – This biopic recounts the life of legendary, innovative and tragically doomed music producer Joe Meek (whose career abruptly ended when he shot his landlady before shooting himself in 1967). Telstar is named after Meek's biggest and most recognizable hit from 1962, an instrumental performed by The Tornados (who were essentially his studio band at the time).
The film (based on a stage play by James Hicks, who co-adapted the screenplay with director Nick Moran) suffers a bit from an uneven tone, but I still think it is quite watchable (especially for fans of the era), thanks to the great location filming, a colorful and tuneful recreation of the early 60s London music scene, and a fearless performance from Con O'Neill (recreating his original stage role as Meek). (Full review)
Trollhunter (tubi, Amazon Prime Video) – Like previous entries in the "found footage" sub-genre,  Trollhunter features an unremarkable, no-name cast; but then again you don't really require the services of an Olivier when most of the dialog is along the lines of "Where ARE you!?", "Jesus, look at the size of that fucking thing!", "RUN!!!" or the ever popular "AieEEE!".
Seriously, though- what I like about Andre Ovredal's film (aside from the surprisingly convincing monsters) is the way he cleverly weaves wry commentary on religion and politics into his narrative. The story concerns three Norwegian film students who initially set off to do an expose on illegal bear poaching, but become embroiled with a clandestine government program to rid Norway of some nasty trolls who have been terrorizing the remote areas of the country (you'll have to suspend your disbelief as to how the government has been able to "cover up" 200 foot tall monsters rampaging about). The "trollhunter" himself is quite a character. Not your typical creature feature! (Full review)
…one more thing
In case you are still bereft of ideas for movie night, film programmer and writer Kathleen Geier has posted a comprehensive guide aimed at housebound cinephiles jonesing for a deep catalog dive via online streaming. Her eclectic recommendations run the gamut, from classic Hollywood to indie, art house and world cinema.