By Dennis Hartley
(Originally posted on Digby's Hullabaloo on March 21, 2020)
So movie theaters are shuttered, the balcony is closed, and I'm getting emails like this:
I'd reach for the Ben and Jerry's…but my local grocery stores seem to be out of stock.
There's been movement to offer first-run features online; Kino-Lorber will be launching "Kino Marquee" (which they refer to as "virtual screenings" as opposed to standard VOD) and Xfinity cable is now pushing a VOD feature called "Xfinity Movie Premiere". I'd hazard a guess that other releasing studios and platforms will follow suit very shortly.
With more of us living la vida shut-in (as mandated by authorities and/or common sense), the need for "cinema therapy" is paramount (no pun intended). With that in mind, here are 10 personal faves that I've watched an unhealthy number of times; films I'm most likely to reach for when I'm depressed, feeling anxious, uncertain about the future…or all the above. These films, like my oldest and dearest friends, have never, ever let me down.
Black Orpheus – Marcel Camus directed this mesmerizing 1959 film, a modern spin on a classic Greek myth, fueled by the pulsating rhythms of Rio's Carnaval and tempered by the gentle sway of Luiz Bonfa and Antonio Carlos Jobim's gorgeous samba soundtrack. Camus and Jacques Viot adapted the screenplay from the play by Vinicius de Moraes.
Handsome tram operator Orfeo (Breno Mello) is engaged to vivacious Mira (Lourdes de Olivera) but gets hit by the thunderbolt when he meets sweet, innocent Eurydice (Marpessa Dawn). As in most romantic triangles, things are bound to get ugly, especially when Mr. Death (Ademar da Silva) starts lurking about.
A unique film that fully engages the senses. Some may wonder how I'm "comforted" by a story based on a classic Greek tragedy; but it's the final scene (one of the most beautiful, life-affirming denouements in cinema history) that always assures me that somehow, everything is going to be alright.
A Hard Day's Night – This 1964 masterpiece has been often copied, but never equaled. Shot in a semi-documentary style, the film follows a "day in the life" of John, Paul, George and Ringo at the height of their youthful exuberance and charismatic powers.
Thanks to the wonderfully inventive direction of Richard Lester and Alun Owen's cleverly tailored script, the essence of what made the Beatles "the Beatles" has been captured for posterity. Although it's meticulously constructed, Lester's film has a loose, improvisational feel; and it feels just as fresh and innovative as it was when it first hit theaters all those years ago. To this day I catch subtle gags that surprise me (ever notice John snorting the Coke bottle?). Musical highlights: "I Should Have Known Better", "All My Loving", "Don't Bother Me", "Can't Buy Me Love", and of course, the fab title song.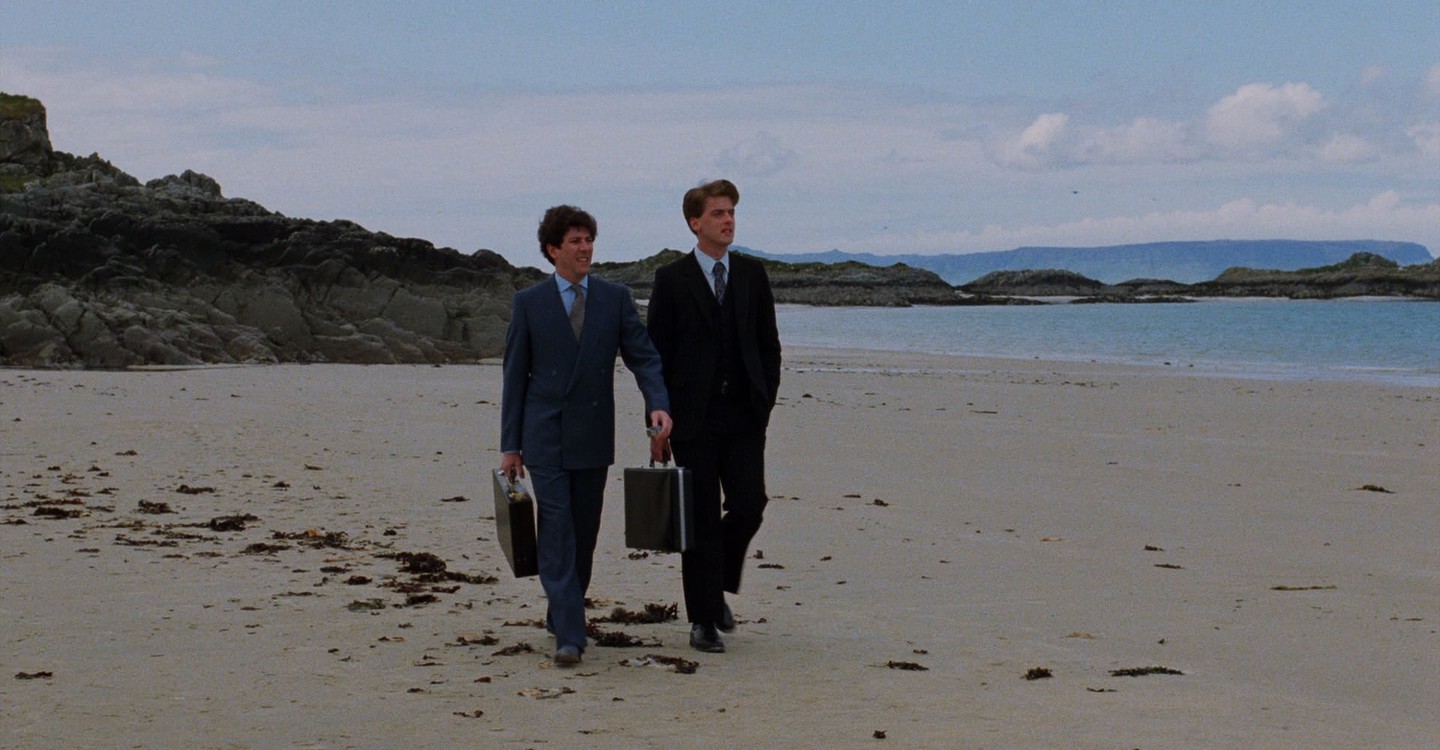 Local Hero – This magical, wonderfully droll and observant 1983 social satire from Scottish writer-director Bill Forsyth stars Peter Reigert as Macintyre, a Texas-based executive who is assigned by the head of "Knox Oil & Gas" (Burt Lancaster) to scope out a sleepy Scottish hamlet that sits on an oil-rich bay. He is to negotiate with local property owners and essentially buy out the town so that the company can build a huge refinery.
While he considers himself "more of a Telex man", who would prefer to knock out such an assignment "in an afternoon", Mac sees the overseas trip as a possible fast track for a promotion within the corporation. As this quintessential 80s Yuppie works to ingratiate himself with the unhurried locals (quite impatiently at first), a classic "fish out of water" transformation ensues. It's the kindest and gentlest Ugly American tale you've ever seen.
The Maltese Falcon – This iconic noir, based on a classic Dashiell Hammett novel and marking the directing debut for a Mr. John Huston, is so vividly burned into the film buff zeitgeist, that I don't feel the need to recount the plot. Suffice it to say that "When a man's partner is killed, he's supposed to do something about it." And leave it at that.
Humphrey Bogart truly became "Humphrey Bogart" with his performance as San Francisco gumshoe Sam Spade. Equally memorable performances from Sidney Greenstreet, Mary Astor, Peter Lorre ("Look what you did to my shirt!"), Lee Patrick and Elisha Cook, Jr. round things off quite nicely. I've lost count on my viewings of this one.
Man on the Train – There are a only a handful of films I have seen that I have become  emotionally attached to, sometimes for reasons I can't always completely fathom. This 2002 drama is one of them.
Best described as an "existential noir", Patrice LeConte's relatively simple tale of two men in the twilight of their life with completely disparate life paths (a retired poetry teacher and a career felon) forming an unexpectedly deep bond turns into an equally unexpectedly transcendent film experience. French pop star Johnny Hallyday and the wonderful screen veteran Jean Rochefort deliver revelatory performances. I feel an urge to go watch it right now.
Sherman's March – Documentary filmmaker Ross McElwee is truly one of America's hidden treasures. McElwee, a genteel Southern neurotic (think Woody Allen meets Tennessee Williams) has been documenting his personal life since the mid 70's and managed to turn all that footage into some of the most hilarious, moving and thought-provoking films that most people have never seen.
Audiences weaned on the glut of "reality TV" of recent years may wonder "what's the big deal about one more schmuck making glorified home movies?" but they would be missing an enriching glimpse into the human condition. Sherman's March actually began as a project to retrace the Union general's path of destruction through the South, but somehow ended up as rumination on the eternal human quest for love and acceptance, filtered through McElwee's personal search for the perfect mate.
Despite its 3 hour length, I've found myself returning to this film for repeat viewings over the years, and enjoying it just as much as the first time.The unofficial "sequel", Time Indefinite, is also worth a peek.
Spirited Away – Innovative Japanese anime master Hayao Miyazaki has made a lot of great films, but this may well be his crowning achievement. A young girl and her parents inadvertently stumble into a resort spa reserved exclusively for traditional Japanese deities and other assorted denizens of the spirit world. Needless to say, this "security breach" throws the phantasmagorical residents into quite a tizzy; Mom and Dad are turned into barnyard animals and their daughter has to rely on her wits and previously untapped inner strength to save them. Visually stunning and imaginative nearly beyond description, it also tells a beautiful story-funny, touching, exciting and empowering.
The Thin Man – A delightful mix of screwball comedy and murder mystery (based on the Dashiell Hammett novel) that never gets old for me. The story takes a backseat to the onscreen spark between New York City P.I./perpetually tipsy socialite Nick Charles (William Powell) and his wisecracking wife Nora (sexy Myrna Loy). Top it off with a scene-stealing wire fox terrier (Asta!) and you've got a winning formula that has spawned countless imitators over the last 86 years; particularly a bevy of sleuthing TV couples (Hart to Hart, McMillan and Wife, Moonlighting, Remington Steele, etc.).
True Stories – Musician/raconteur David Byrne enters the Lone Star state of mind with this subtly satirical Texas travelogue from 1986. It's not easy to pigeonhole; part social satire, part long-form music video, part mockumentary. The episodic vignettes about the quirky but generally likable inhabitants of sleepy Virgil, Texas should hold your fascination once you buy into "tour-guide" Byrne's bemused anthropological detachment.
Among the town's residents: John Goodman, "Pops" Staples, Swoosie Kurtz and the late Spalding Gray. The outstanding cinematography is by Edward Lachman. Byrne's fellow Heads have cameos performing "Wild Wild Life". Not everyone's cup of tea, but I have an emotional attachment to this film that I can't explain.
Wings of Desire – I've never sat down and tried to compile a Top 10 list of my favorite movies of all time, period full stop (I've just seen too many damn movies…I'd be staring at my computer screen for weeks, if my head didn't explode first) but I'm pretty sure that Wim Wenders' 1987 stunner would be a shoo-in. Like 2001 or Koyaanisqatsi (definite contenders) it is akin to the unenviable task of describing color to a blind person.
I mean, if I told you it's about a trench coat-wearing angel (Bruno Ganz) who hovers over Berlin, monitoring people's thoughts and taking notes, who spots a beautiful trapeze artist (Solveig Dommartin) one day and follows her home, wallows around in her deepest longings, watches her undress, then falls in love and decides to chuck the mantle of immortality and become human…well, you'd probably say "Dennis, that sounds like a story about a creepy stalker." And if I also told you it features Peter Falk, playing himself, you'd laugh and say "I'm being punk'd, right?" Of course, there is much more to it. It's about life, the universe, and everything.
BONUS!
If you really want to go all out for movie night (which is pretty much every night for me), you have to watch a cartoon before the movie, right? Here's my 2011 review of a Blu-ray box set always guaranteed to lift your spirits. Keep it handy, right next to the first aid kit.
The Looney Tunes Platinum Collection, Vol. 1 – During those long, dark nights of my soul, when all seems hopeless and futile, there's always one particular thought that never fails to bring me back to the light. It's that feeling that somewhere, out there in the ether, there's a frog, with a top hat and a cane, waiting for a chance to pop out of a box to sing:
Hello my baby, hello my honey, hello my ragtime gal                                     Send me a kiss by wire, baby my heart's on fire…
If you don't know what I'm talking about, just go ahead and skip to the next review now.
The rest of you might want to check out this fabulous 3-disc collection, which features 50 classic animated shorts (and 18 rarities) from the Warner Brothers vaults. Deep catalog Looney Tunes geeks may quibble until the cows come home about what's not here (Warner has previously released six similar DVD collections in standard definition), but for the casual fans (like yours truly) there is plenty to please. I'm just happy to have "One Froggy Evening", "I Love to Singa", "Rabbit of Seville", "Duck Amuck", "Leghorn Lovelorn", "Three Little Bops" and "What's Opera Doc?" in one place. The selections cover all eras, from the 1940s onward.
One thing that does become clear, as you watch these restored gems in gorgeous hi-def (especially those from the pre-television era) is that these are not "cartoons", they are 7 ½ minute films, every bit as artful as anything else cinema has to offer. Extras include a trio of excellent documentaries about the studio's star director, the legendary Chuck Jones. The real diamond among the rarities is The Dot and the Line: A Romance in Lower Mathematics (directed by Jones for MGM), which won the 1965 Oscar for Best Animated Short Film.